Are you ready130 Speakers, 40 sessions @ Worlds No. 1 Medica Health IT Forum
Organised by Science Service – Dr. Hempel Gmbh for 20 years, the MEDICA HEALTH IT FORUM has been offering you a programme at a top-notch level. More than 130 speakers from all areas of the healthcare industry will be discussing industry trends, digitisation levels and innovative solutions in around 40 sessions.
Find out from the experts which new IT-based business and supply models are imperative to discover, where regulatory or technological obstacles are slowing down development and which fields the start-up scene is about to change – all this free of charge with your MEDICA admission ticket.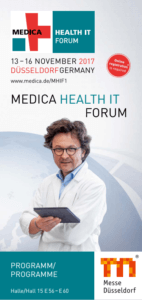 The topic of artificial intelligence is currently experiencing an unexpected hype. The MHIF focuses on successes in the field of deep learning, application scenarios and experience in diagnostics or the emergence of medical chatbots. Discussions about the disruptive potential of medical 3D printing or the possible significance of blockchain technology for the healthcare IT industry are also included in the programme. In addition, the MHIF is also concerned with the effects of digitisation in fields such as nursing (digital care), mental health (eMental Health) and patient participation (xHealth). Last but not least, visitors can expect exciting discussion rounds on the latest developments in the personalisation of medicine (Precision Medicine), intelligent healthcare management (Population Health), IT security (Cyber Security) or the feminization of medicine (sheHealth).
On the newly designed green stage, everything revolves around solutions and their practical presentation: In addition to informative lectures, the MHIF now also organises live demonstrations and advanced formats such as a World Café
And also the eHealth Venture Summit will take place again in 2017:
Experts and investors will come together to discuss experiences and ways of how small and medium-sized digital health companies can make their way. And of course, there will be a pitch again
Expand your horizons and network and meet key players – we are looking forward to your visit!
MEDICA 2017 is just around the corner. Click here to download the brochure of the programme.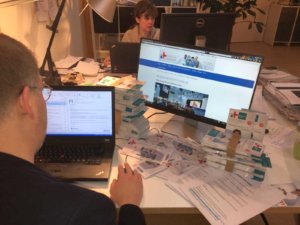 Program management Team –  Dr. Hempel Gmbh ( Alexa and Martin ) working hard to finalize the program expecting 5000 visitors at Medica Health IT Forum 2017 in Düsseldorf Germany.