Best location for your eHealth startups in India
The Indian healthcare system has grown manifold during the last few years. It is primarily due to the immense funding, disruptive technology and some initiatives by the government. However, the best place for digital health startups remains a crucial question. Founders & investors look at various factors before considering the location to launch their business. Increase in demand for affordable care and penetration of smartphones has resulted in a rise in some digital health startups in India. Healthcare sector also received massive investment during FY 2015-16, and it is expected to receive more deals through equity & venture capital firms. [1]
Startup landscape in India is an exciting opportunity for private partners and investors as some firms established recently. Additionally, there is a need for skilled & trained staff to cover an abroad spectrum. [2] A primary concern would be the low proportion of startups that get funded in India.
Bangalore is a leader in startups founded in India as investors prefer the open infrastructure in the city for the startups' ecosystem in India; New Delhi & Mumbai follow it. As far as the investments are concerned, Bangalore leads the charts with US$ 2.40 billion, followed by New Delhi at US$ 1.4 billion, and Mumbai around US$ 600 million.
Location of your eHealth startups in India – State wise distribution
Factors such as the availability of adequate health care and IT infrastructure have led to the concentration of investments in only a few Indian states. During 2012-16 (till July), the top three states like Karnataka, Maharashtra, and Delhi, witnessed over 78 per cent of the total investments of US$ 295.9 million in health care startups.
In India, states with adequate infrastructure and better facilities for people and it is apparent that young startups will try to focus on those regions. States like Maharashtra, Hyderabad, Delhi and Karnataka with quality IT infrastructure and resources available saw the highest number of startups in the last three to five years. Some smartphones and Internet users are also on the rise in these states, which makes them favoured destination for health care startups. Founders in the local market are aware of the current scenario and try to take advantage of it.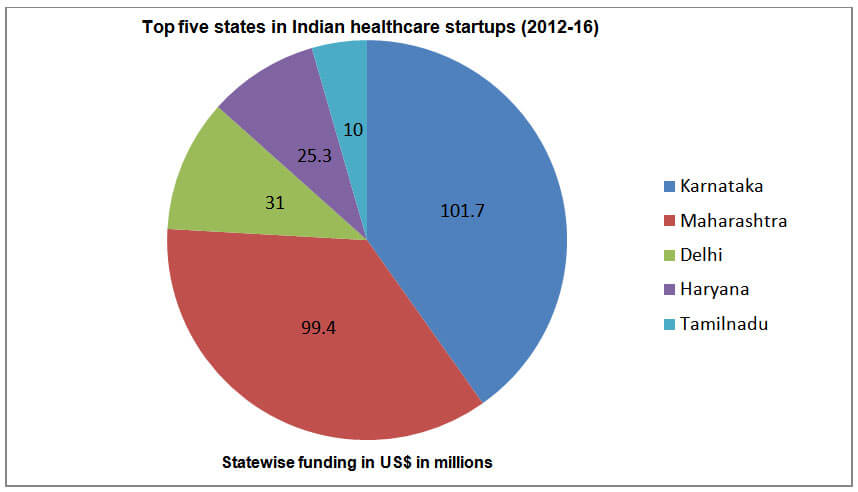 Karnataka
According to the recent survey conducted by Compass, Bangalore is ranked 15th based place for start-ups in the world.
Founders prefer Bangalore because of the massive presence of IT companies for the past few years. Also, it gives the industrial edge to the city that many techies come to pursue their careers. Top players from the healthcare industry are also present in the city with likes of Narayana Health and Manipal Group.
Early-stage start-ups like Biocon & Astra Zeneca have also played a key role in bringing digital health start-us to Bangalore. [3] Other cities like Udupi and Hubballi were also favourite places for new startups due to many young talents found in respective regions.
Total funding received in digital health startups was US$ 102 million in the last five years with an average deal of US$ 1.9 million.
Maharashtra
Maharashtra being the most favoured destination for FDI in recent years is also top-ranked state in India for digital health care startups. The amount of FDI flown in the last 3-4 years is more than that of all other countries in India combined due to the availability of better infrastructure and facilities. Cities like Mumbai and Pune saw a large number of digital healthcare startups raised in recent years.
In West Maharashtra and Gujarat have good health care infrastructure. Digital health startups in Mumbai have raised a large part of investment through various venture capital and private equity investors. Pune, one of the developing cities in India also has an advantage due to institutes like the Indian Institute of Science, Education & Research, Maharashtra Institute of Technology and others. Maharashtra is another essential place for budding entrepreneurs since the state has adequate infrastructure for businesses. The government of Maharashtra has articulated Maharashtra State Start-up policy which allows incubators to help newly established start-ups. [4]
Total investment brought in the state of Maharashtra in the last five years was US$ 99.4 million with an average deal of US$ 2.2 million.
Delhi
Being the capital city of India, Delhi expects a significant number of people coming for jobs, travel, medical solutions and hence it is one of the prime locations for digital health startups. Delhi has adopted a working model of corporate partnership for medical education. It helps in cost effectiveness where there is no extra burden on corporate players. Some of the startups are concentrating on setting up of X-ray and Ultrasound centers in rural health facilities by contracting with private service providers.
Total funding received in health care startups was US$31 million in the last five years with an average deal of US $ 1.7 million.
Haryana
Haryana is one of the largest automobile hubs in the country. In recent years, it has established as a base for the IT & healthcare companies. [5] Haryana is progressing by leaps and bounds, and the state is far ahead of Gujarat regarding development and agriculture sector. The state government of Haryana has been committed to creating a progressive business environment. The government has plans of building a 10,000 square feet warehouse, a 4,000 sq. ft.mobile application center and a center for innovation and entrepreneurship in the millennium city, Gurgaon.
Total investment brought in health care startups over the last five years was US$ 25.3 million with an average deal of US$ 3.6 million.
Tamilnadu
Tamil Nadu is another state which is rapidly growing regarding newly established industries. State Government has taken several steps to build the ground to improve IT infrastructure and critical resources to attract startups. For instance, they developed a single window system for licenses and approvals making it easier for private players.
Tamil Nadu has also set-up a state level warehouse to facilitate dedicated places for start-ups. [6] Coimbatore, one of the principal cities in Tamilnadu found out to be the most affordable destination along with Kochi.
State of Tamilnadu received the investment of US$ 10.7 million in digital health startups with an average deal of US% $1.3 million.
Image credit: www.istockphoto.com