Empowered patients and their role in digital prevention
Who is an 'empowered patient'?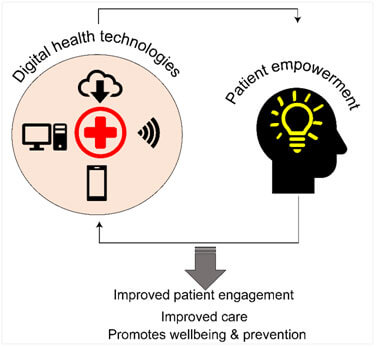 Knowledge is power!!! A patient equipped with sufficient knowledge of his/her health conditions, diagnosis, treatments, risks, and technology to be used as an 'empowered patient.' When the patient has done own research and believes that she/he is properly informed of the condition, he or she is in a state of 'empowerment' to discuss, negotiate and contribute to the decision-making process of healthcare. In this digital era, patients have access to the internet, social media, and online educational programs through which they gather knowledge that was previously only available through healthcare providers. Now with telehealth, mHealth and eHealth facilities there is much more increased patient engagement. Therefore digital health technologies, in fact, promote patient empowerment.
The 'blockbuster drug' – Active patient engagement in digital prevention
Active patient participation in their health care plan has become a 'blockbuster drug that has been highly encouraged by the Affordable Care Act (ACA). One hypothesis for the disease burden observed in minorities and immigrants is the availability of barriers such as language, perceptions, and culture that reduce their engagement with health care and prevention programs.
If patients can be informed and empowered to be more engaged in their wellness, the use of digital health prevention technologies may result in improved health and quality of care in these communities.
In fact, preventive health care programs such as Healthcare-Associated Infection Prevention are utilizing patient empowerment to prevent infections through information sharing, patient education and conducting surveys, where digital health technologies are highly useful.
'Personalized patient activation and empowerment (P-PAE) model' – prevention and treatment through empowerment
With the digital prevention programs, empowered patients are equipped with smartphones, tablets, emails, messages, telemedicine tools and wearable devices tracking day-to-day health status and lifestyle behaviours. Therefore, they can be engaged in 'on-the-go' preventive health programs and health promotion programs. Moreover, with the interoperability of digital prevention, providing health care to an empowered patient can be achieved at multiple levels namely, individual- (personalized), health care professionals, community-based- and health care facility/institutional- levels.
This multi-level, sustainable healthcare model is called 'personalized patient activation and empowerment (P-PAE) model' that is expected to improve health care outcomes at both personal and population levels.
The P-PAE model for patient-centered care may potentially be applied as per following agenda proposed by According to Jim Naughton from the American Board of Internal Medicine:
1) Patients' preferences should be respected;
2) We should attend to patients' emotional needs, context, comfort, and meaning;
3) Patients should be engaged and empowered;
4) There should be shared decision-making that promotes patient autonomy;
5) Family and friends should be involved in care decisions where appropriate, and
6) Care should be coordinated within and across systems.
This model enables building trust between the patient, care providers, stakeholders and digital tools, facilitate smooth transactions (insurance, hospital bills, pharmacy), improved access to healthcare, enhance community engagement and support, among many other services of digital prevention.
"What gets measured, gets managed."
It appears that the empowered patients follow the famous motto of Peter Drucker"What gets measured, gets managed."They firmly believe that the data collected through digital health tools such as vitals and blood glucose levels, which were only accessible and interpreted by healthcare providers previously. Having this information and knowledge empowers them. 'Information' plays a critical role in empowering and informing the patient, providing necessary facts for diagnosis, treatment or prevention, sharing allows collaborative consultations (coordinated care), enhancing patient-care provider interactions and communication and ultimately better health outcomes and reduced disparities.
However, there is still so much debate regarding the meaningful use of 'patient-gathered health data/information (PGHD).' Policies and support should be developed to overcome the barriers to the meaningful use of PGHD, that include improvement of eHealth tools that allows transfer of PGHD to care, providers, tools to incorporate necessary PGHD to the patient's EHR and informatics and analytic tools to store, manage, filter and interpret the PGHD.
If improved and meaningful PGHD can be applied within the P-PAE model to create a workflow of health care through the patient-care provider-community network, the digital prevention strategies may achieve its goals.
Image credit: www.istockphoto.com