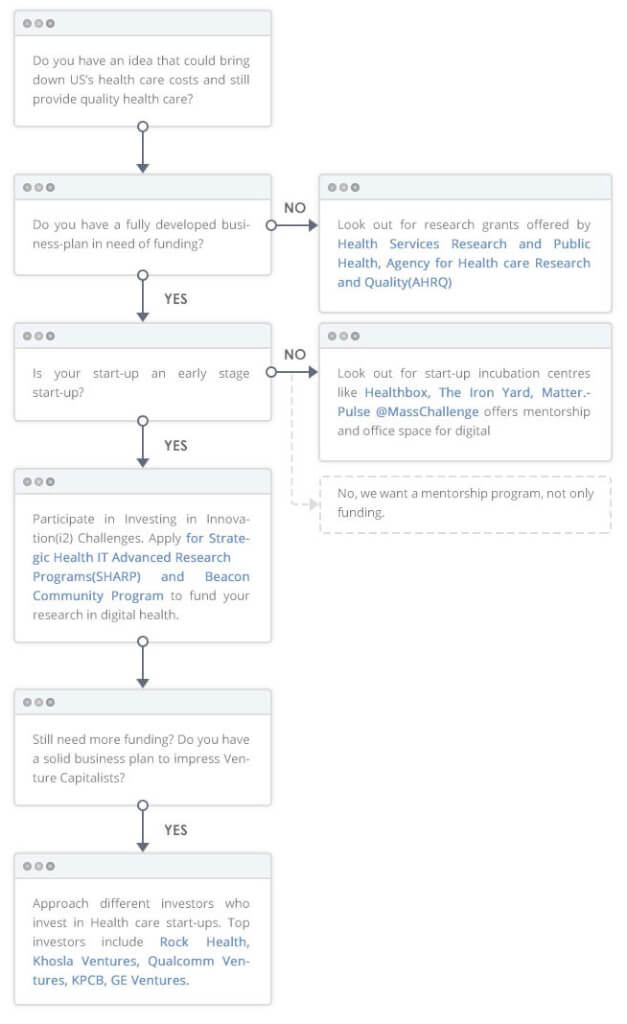 Please read the full article for detailed information on current investment scenario in the US and various government initiatives to raise funding for your startup.
Digital health startups have started raising record-shattering funding in the recent years. Studies have shown that $6.5 Billion has been invested in digital health deals in the first three-quarters of 2016, more than the $6.1 Billion spent in all of 2015. US health care industry is forced to carry out reforms designed to redraw the health care landscape, as the annual expenditure of the US government on health care has exceeded 18% of its GDP, with the treatment of chronic disease dominating this spend.
The decision of Health and Human Services department to make technology adoption mandatory for the health care providers has found resonance among numerous researchers and analysts. This will drive the much-needed innovation in the health sector to provide quality health care at lesser costs.
Typical investments in different phases
The amount of health care investments depends on the stage the health care investor is investing in the start-up. Various funds invest in health care with varying focus groups and at different stages such as angel round, seed round, pre-series round and series rounds (A, B, C, etc. Philadelphia-based).
Hayward, California-based Chrono Therapeutics, which is developing a sensor-enabled nicotine patch with a connected app, raised $47.6 million in Series B financing. The round was led by Kaiser Permanente Ventures and will go towards further development of the company's digital drug therapy platform.
Chicago-based Endotronix, which makes devices to remotely monitor cardiac patients and manage heart failure, has been able to raise funding of $32 Million from investors including BioVentures, Lumira Capital, SV Life Sciences, Aperture Venture Partners and OSF Ventures.
A Philadelphia-based, an on-demand digital health concierge raised more than $70 million in new Series E funding in a round led by Andreessen Horowitz with participation from other investors including Madrona Venture Group.
All these examples show that Global equity funding to private digital health start-ups grew for the 7th straight year in 2016, hitting an all time high of $6.1 Billion. Analysts are of the view that vast majority of rounds went to early-stage, seed, and Series A companies, though a few more mature companies also raised important mega-rounds.
Top digital health VC investors
Digital health continues to be a hot category as the number of investors entering the sector globally, continues to increase, with more than 1,350 individual investors with at least one investment in a digital health company.
Rock Health: Founded in 2010, Rock Health has invested in more than 20 different health care companies.  It is a full-service seed fund and offers funding, access to venture, medical, legal and corporate partners, and office space to its portfolio companies. Rock Health has invested in a significant number of companies including Amino, Lumity, Doctor on Demand among others.
Khosla Ventures: Khosla Ventures is an American venture capital firm focused on early-stage companies in various sectors including health care. It has invested in health care startups like AliveCor, Atomwise, Carrot Sense and a dozen more. Khosla Ventures is one of the five largest and most active investors in the space sector, which has had over US$10 billion of private capital invested in it since 2005.
Qualcomm Ventures: Qualcomm Inc's corporate venture arm Qualcomm Ventures has over more than 160 active companies in its portfolio. It has spent $14.5 Million in Medicare, leading Personalized Medication Management Platform in a series B funding round and $62.5 Million in Doctor on Demand.
KPCB: Kleiner Perkins Caufield& Byers (KPCB) is an American venture capital firm located on Sand Hill Road in Menlo Park in Silicon Valley. Known as one of the "largest and most established" venture capital firms, KPCB specializes in investments in incubation and early stage companies. It has invested in numerous digital health companies like OptiMedica, Livongo, Progyny. KPCB led a series D funding round of $10 Million for Practice Fusion along with Artis Ventures.
GE Ventures: GE Ventures, founded in 2013, is the venture capital subsidiary of General Electric. GE Ventures has also partnered with StartUp Health, a global health innovation company, to focus on a class of health care startups developing virtual health and next generation payment solutions. It has invested in multiple digital health start-ups including Cardiodx, DigiSight, and Chrono among others.
Government initiatives to help you raise funding
In September 2009, President Obama released his Strategy for American Innovation, calling upon agencies to increase their ability to harness innovation by using policy tools such as awards and competitions. The Office of The National Coordinator for Health Information Technology (ONC) created the Investing in Innovation ("i2") program.
They hold some challenges and competitions calling for innovative solutions in Health IT and award prizes to the winning ideas. Prizes include monetary support, exposure to investors and passes to industry conferences to present their product.
Strategic Health IT Advanced Research Programs(SHARP) and Beacon Community Program are the grant programs to fund research and for communities to build and strengthen their health information technology (health IT) infrastructure and exchange capabilities.
Challenges
Even though US has a health care industry worth 3 Trillion USD, regulation is seen as a huge deterrent for even the gutsiest of start-ups. Controls include security and compliance while patents are another large issue altogether. Ill-defined regulations and lack of transparency in approval procedures pose a serious challenge for health care start-ups. Investors find it risky and unsafe to fund a digital health care start-up because of continuous amendments and legislations governing health care industry.
Stricter immigration laws imposed by the recently elected government makes it difficult for the digital health startups to attract talent from all over the world. Relaxing regulatory and tax burdens on the early stage start-ups are the need of the hour to foster entrepreneurship in this sector.
Costs incurred for the health care has surpassed GDP in the US. It is high time that the country adapts to the changing global system and makes a transition to the digital health technology to provide better health care to its citizens at a low cost. Digital health care sector, being a highly disruptive and innovative field is perfect for investors to break into at this stage.
Image credit: www.istockphoto.com