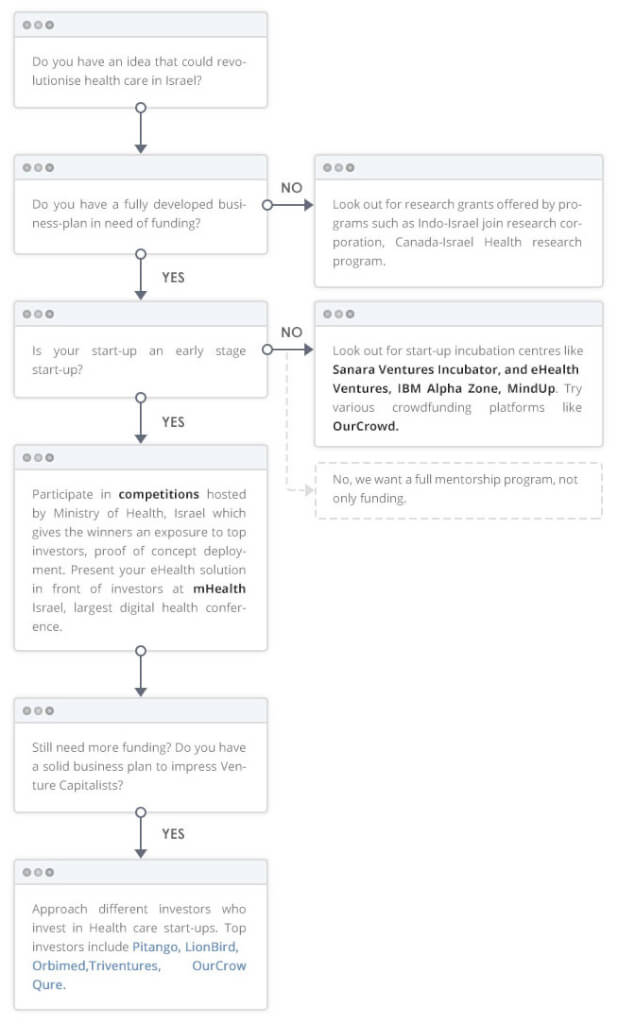 Please read the full article for detailed information on current investment scenario in Israel and various government initiatives to help you raise funding for your startup.
Current scenario in Israeli health sector
Israeli digital health industry is growing exponentially with each passing day as the number of companies operating in this area has skyrocketed. Investments in Israeli digital health rose to $183 million in 2016, up almost 30% from $144 million in 2015. Personal Health Tools and Analytics accounted for over 70% of deal volume in 2015 and 2016. According to a report released by StartUp National Central, the number of digital health companies in Israel has increased substantially in the recent years, reaching 385 businesses in 2016.
Israel is well advanced in the implementation of multifunctional, interoperable health IT systems, built around electronic medical records. The Ministry of Health manages a fully comprehensive, integrated health information and communication system with an extensive database. This paves the way for the startups to design innovative solutions to use this data and develop connected health technology.
Typical investment in different phases
The amount of health care investments depends on the stage the health care investor is investing in the startup. Various funds invest in health care sector with varying focus groups and at different stages such as seed angel round, seed round, pre-series round and series rounds (A, B, C, etc.).
More than 400 digital health startups operating in Israel received total investments of $182.8 million in 2016 – far exceeding the $143.9 million the sector attracted in 2015 seed and A-round deals. Lumus, a developer of high-end transparent near-to-eye displays for augmented reality (AR), mixed reality (MR) and smart eyewear raised $15 million in a funding round led by a Chinese investor.
Upright, winner of MEDICA App Competition 2016, has raised $3 Million from investors. Tytocare, a company, offering telemedicine facilities in Israel managed to raise $18.5 Million from investors which include US drugstore chain Walgreens, LionBird, FOSUNPHARMA and OrbiMed among others.
Incubation centers in Israel
Sanara Ventures Incubator: To help potential rising stars in digital healthcare in Israel, Teva Pharmaceutical Industries and Philips Healthcare opened the Sanara Ventures incubator in Ra'anana last year. They invest in the early stage as well as globally mature companies.
eHealth Ventures: eHealth Ventures is a consortium of world-class medical organizations, seasoned financial leaders and investors who are partnering to identify, fund and commercialize emerging digital health companies, with a focus on Israeli innovation. They also host innovation contest which attracts some of the most disruptive and promising ventures in the Digital Health industry. The finalists compete for prizes which will include a Term Sheet for investment by eHealth Ventures, a "bank" of 20 mentorship hours with the eHealth Ventures partner of choice (Maccabi, The Cleveland Clinic, Amgen, SCI, Medison), "spending" cash and other prizes.
OurCrowdQure: OurCrowd, a crowdfunding platform, launched Israel's first digital health-focused fund with an aim to raise $50 million and fund about 15 companies. OurCrowdQure will invest in businesses in the early stages, in the seed and "A" rounds.
The fund has already made its first investment in Zebra Medical Vision, founded by chairman Eyal Gura, which deals with an automatic analysis of imaging tests. OurCrowdQure is cooperating with Johns Hopkins, a leading US hospital, which will enable OurCrowd's companies to conduct trials on its grounds.
IBM Alpha Zone: Launched in 2014, IBM helps startups develop and market their products but takes no equity, participation fee, or percentage of the intellectual property, and does not require startups to sell their products to IBM. Notable participants include Optibus, Doctome, Zoomd, Tekoia, and Voiceitt.
Government Initiatives to help you raise funding
Ministry of Health and Ministry of Industry, Trade, and Labor has rolled out various initiatives like establishing incubation centers and hosting contests for innovation.  Medtronic, IBM and VC firm Pitango collaborated with Rambam Hospital in Haifa and opened up an incubator named MindUp there last year. Anya Eldan, General Manager of the Early Stage Companies and Incubators programs at the Office of the Chief Scientist (OCS) at the Israeli Ministry of Economy is of the view that this incubator slightly differs from others.
It's a biotech incubator that invests in pharmaceuticals, with the 'winners' selected through a public tender process. It invests between $500,000 and $800,000 in each company, 85 percent of which comes from the government.
Ministry of Health also hosts a contest in which they ask entrepreneurs to develop solutions addressing one or more health related problems like Diabetes, improving emergency room efficiency, etc. Selected companies will have a national Proof of Concept Deployment, paid for by the Ministry of Health. They also get a chance to present their business model at mHealth Israel, the largest digital health conference in the Middle East.
The Department of Science and Technology, Government of India and the Ministry of Science, Technology, and Space of State of Israel also provide financial support for joint research activities carried out by Indian and Israeli researchers in different areas of cooperation including Big Data Analytics in health care. The maximum funding available under this approved project is Rs. 4 Crores for the Indian side and 4,000,000 NIS for the Israeli side, for the two year period.
Canada's International Development Research Centre (IDRC), the Israel Science Foundation (ISF), the Azrieli Foundation and the Canadian Institutes of Health Research (CIHR) also launch different editions of the Joint Canada-Israel Health Research Program to do cutting-edge work in biomedical sciences and health sector.
Challenges faced by new startups in Israel
Despite record venture capital investment in the recent years in startups, growth in the so-called "startup nation" is slowing. Regulations are making it hard for smaller companies to flourish and local institutional investors to participate in the new economy. Unique ideas and the entrepreneur culture will not draw world-class investors for long if the country does not adapt to changing the global ecosystem.
Strict immigration laws and difficulty in getting work visas make it hard for startups to recruit talented engineers and innovative employees to design cutting-edge solutions. Relaxing regulatory and tax burdens on the early stage startups are the need of the hour to foster entrepreneurship in this sector.
Venture capitalists such as Pitango, LionBird, Orbimed, and Triventures have been active for a while and investing heavily in Israel's digital health startups. We are starting to see even more venture capitalists such as Elevator showing interest exclusively in the digital health field. Israel's growing digital healthcare sector is ripe for growth and investors are striving hard not to miss this fantastic opportunity.
Image credit: www.istockphoto.com