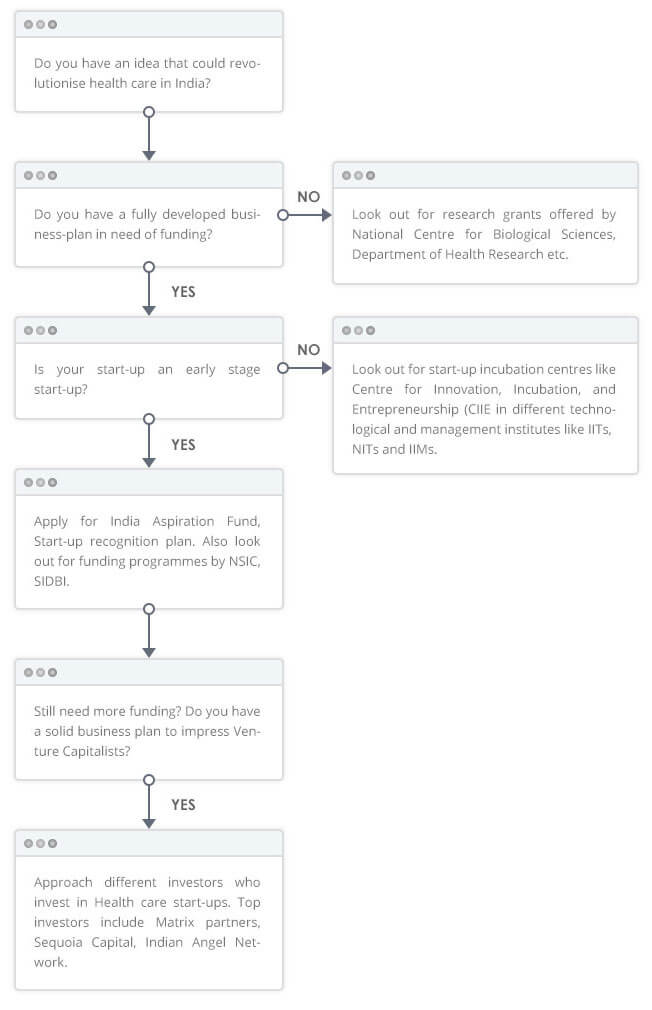 Please read the full article for detailed information on current investment scenario in India and various government initiatives to help you raise funding for your startup.
The current scenario in the Indian health care sector
Digital health industry in India is growing at a tremendous pace and is expected to expand at a rate of 18.2% to reach 280 Billion USD by 2020. The government has launched some facilities like eHospital, National Health Portal, mSwasthaya under the umbrella of Digital India campaign. Health care is the fastest growing industry in India with an estimated market size of 100 billion USD. Digital health care in India is the prime candidate for investors looking to put their money in an exponentially growing industry.
The decision of opening 100% Foreign Direct Investments in the health sector by the Indian government was appreciated by the financial experts and market analysts. Digital health startups have raised seed funding from various investors and venture capitalists. Practo Technologies Pvt Ltd, a digital health care start-up, has raised US$ 55 million in Series D round of financing led by Chinese investment holding company, Tencent Holdings Ltd, which will be used for expanding its product portfolio.
Pluss, a Gurgaon-based on-demand medicine, and health care products delivery service startup, has raised US $1 Million in pre-Series A funding from M & S Partners, Singapore, IDG Ventures, India and Powerhouse Ventures, US.
Typical investments in different phases
The amount of investments depends on the stage the Health care investor is investing in the start-up. Various funds invest in the healthcare sector with varying focus groups and at different stages such as the angel round, seed round, pre-series round and series rounds (A, B, C, etc.analyse).
Typical CV funding raised by Indian digital health start-ups range from $100,000 to more than 1 Million USD. Cooey, a developer of the health monitoring Internet of Things (IoT) app that collects, analyzes and provides insights into vital signs for patients, raised $470,000 from Digital Circuits President, Subhash Goyal. 1mg, an online shopping, and drug delivery company that allows users to search for medicines and get information on common uses, dosage, and warnings, also managed to raise $6 million from MakeMyTrip founder Deep Kalra, Omidyar Network, Sequoia Capital, Intel Capital and Kae Capital.
A new report from digital health startup seed fund Rock Health has noted that venture capital (VC) funding for digital health companies globally in the first half of 2015 reached $2.1 billion.
Studies have shown that digital health companies have started raising more money through IPOs (initial public offerings) than venture capital.
Top investors investing in health care start-ups
Sequoia Capital: Sequoia Capital has invested in 34 health care & health-tech companies. In 2015, of the top 5 Healthcare Investments, Sequoia was a part of 4 of them, spending twice in Series B & Series C in Practo.
Matrix Partners: Having invested in numerous companies like Practo, TechMed, Hearing Plus, Matrix Partners is one of the leading investors in the health care market. Matrix also co-invested in both the Series B & Series C rounds of Practo in 2015 along with Sequoia Capital.
Accel Partners: Accel has invested in 15 health care companies including some front-runners in the space of home-care such as Portea Medical of which it was involved in both Series A and Series B. Another investment in CureJoy, a start-up that focuses on expert advice on Cure, Fitness & Beauty shows their divergence from current Healthcare investments.
Indian Angel Network: It has invested in 6 healthcare companies in the country including Transcell Biologics, Tattva Spa, Neurosynaptic Communications, Vittas Pharma, Consure Medical & Karmic Lifesciences. Amongst them, Neurosynaptic Communications has its presence not just in India but,  also operates in South Asia, South East Asia, Africa and the Middle East.
Centre for Innovation, Incubation, and Entrepreneurship (CIIE): This start-up incubation center, based out of IIM-Ahmadabad, runs a unique accelerator program for health care start-ups along with The Dasra Girl Alliance. With the focus on Medical Devices, health care IT & Biotech, Centre for Innovation Incubation and Entrepreneurship (CIIE) boasts of 7 portfolio companies and ten accelerate start-ups.
Government Initiatives to help you raise funding
Prime Minister Narendra Modi launched the Startup India campaign to foster entrepreneurship and drive innovation in different sectors including digital health care. Start-ups should meet certain guidelines under the startup recognition plan and can apply for funding. Banks are an integral part of the Start-up ecosystem. Different banks have launched dedicated policies, units, schemes, loan initiatives and branches exclusively for Start-ups. Union Bank of India provides funding upto INR 5 Crore for startups meeting their guidelines.
India Aspiration Fund, SIDBI, NSIC are some of the schemes that provide capital support to the early stage start-ups. Ministry of HRD has also issued guidelines to Institutes of National Importance like IITs and NITs to open startup incubation centers on their campus to foster the spirit of entrepreneurship.
Challenges faced by digital health start-ups
Being in a sector that has traditionally shied away from technology, health care start-ups face a lot of problems. It 's hard to get your start-up approved because of ambiguous rules and regulations and lack of standard guidelines and procedures. Investors find it risky and unsafe to fund a digital health care start-up because of continuous amendments and legislation governing the health care industry.
India's competitive advantage lies in its large group of well-trained medical professionals. The numbers of mentors and investors are very less compared to the growth of high-end diagnostics technology. With most start-ups failing in this space, existing investors are also very apprehensive in investing.
In recent times with a flurry of health apps coming to the fold with promise and a result-oriented approach, the trend in the health care industry is changing for the better. It is one of the biggest, most unorganized and diverse sectors at the moment and just as the startups want to create a wave of disruption this field, so are the investors who don't want to lose out a share of the pie in this sector.
Image credit: www.istockphoto.com