Healthcare is one of the key contributors to employment & revenue generation in India. [1]  The Indian healthcare sector has grown manifold in recent years to become one of India's most significant areas contributing to 6% of the country's GDP. Although the healthcare industry is complex in nature, especially at the grassroots level, it also presents a tremendous opportunity for digital health startups in India. Indian healthcare industry is projected to reach US$ 300 billion by 2020. The country will need the almost double workforce by 2022. [2] Startups are disrupting this space, let us explore 12 Key market applications of digital health startups in India.
Digital healthcare start-ups are changing the way healthcare delivery gets delivered in India. About 6% of newly founded start-ups in India have been in the Health-tech sector. The rising development of equity and venture capital investments along with social funding is destined to boost to the already growing sector. Healthcare sector remarks a bright future due to the campaigns like 'Start-up India, Stand-up' and 'Digital India.'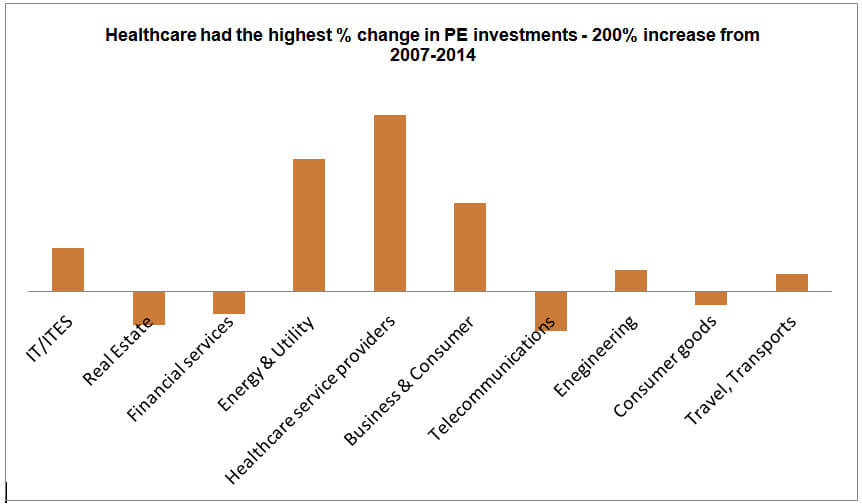 12 Key market applications of digital health startups in India [3]
Doctor networking & engagement: These startups engage doctors in closed groups. Here are their details:
DailyRounds: Largest Doctor network in India. Website: dailyrounds.org
Curofy: Curofy is LinkedIn kind of Doctors networking. Website: curofy.com
Docplexus: This is a web-based discussion forum for Doctors. Website: docplexus.in
Buzz4Health: Buzz4Health is Delhi based platform for Doctors. Website: buzz4health.com
PlexusMd: PlexusMd is designed for doctors, by doctors with custom features. Website: PlexusMD.com
Doctors discovery platform/aggregators
Practo: Practo assists you in finding the right doctors for your problems. Website: practo.com
CrediHealth: It helps people to compare and select from a database of hospitals, doctors. Website:credihealth.com
Lybrate: It connected patients and doctors and based in New Delhi. Website: lybrate.com
Medikoe: It is located in Bangalore and provides you with the discovery of services which can be trusted. Wsbsite:medikoe.com
Livehealth: Livehealth helps you get your medical reports instantly. Website: livehealth.in
Zoctr: It gives a comprehensive portfolio of home-based health care services. Website: zoctr.com
PSTakeCare: It is a comprehensive surgery care platform. Website: pstakecare.com
HealthQik: an Online platform where patients and providers can connect. Website: healthqik.com
E-commerce delivery
1MG: 1MG is an online pharmacy network and generic medicine engine. Website: 1mg.com
NetMeds: Based in Chennai, NetMeds is launched by Dadha &Company. Website: nedmeds.com
Speed Medicine: It is dedicated to simplifying your medication needs. Website:www.speedmedicine.com
Patient awareness network
Noora Health: Noora Health is an online platform that offers training and information. Website: noorahealth.org
SocialBlood: the Quickest way to find blood donor based on the Facebook platform. Website: socialblood.org
Tinystep: India's Largest Parenting Network provides networking on baby care. Website: tinystep.in
Parentlane: Social parenting platform empowering parent's assistance to raise healthy kids.Websiteparentlane.com
MUrgency: MUrgency is one Global Emergency Response Network on mobile phones. Website: murgency.com
Personalized health & lifestyle services
GOQii: It is dedicated to enabling a permanent shift to a healthier. Website: goqii.com
HealthifyMe: HealthifyMe is an application that allows its users to achieve their fitness. Website www.healthifyme.com
Jana Care: It works to reverse "diabesity," by embedding mobile technology. Website: janacare.com
LifeinControl: Based in Hyderabad, it's a mobile companion for Diabetes management. Website: lifeincontrol.com
GoAktive: GiAktive is a tech platform that gamified wellness and fitness. Website:goactive.com
f) Curefit: Curefit is an innovative combination of engagement, coaching, and delivery. Website: cure.fit
Consultation/ appointment management
Lybrate: Website:lybrate.com
Practo: Website: practo.com
DoctorInsta: Website: doctorinsta.com
Medifixit: Website: medifixit.com
Zeros: Website: zeros.co.in
E-clinic24/7: Website: eclinic247.com
Welcome Cure: Website:welcomecure.com
SeeDoc: Website: seedoc.co
Ray Care: Website: raycare.co
e-vaidya: Website: evaidya.com
S10 health: Website: s10health.com
Health record, data & claims management
e-Kincare: Website: ekincare.com
Docengage: Website: docengage.in
Praxify: Website: praxify.com
MocDoc: Website: www.moddoc.in
Mediassist: Website: medibuddy.in
Devices /tech startups
Satva Medtech:Website: www.sattvamedtech.com
Axis Bio Solutions: Website: axisbio.com
Medgenome: Website: medgenome.com
Relisys Medical Devices: Website: relisysmedicaldevice.com
Home –healthcare
Health Care at Home: Website: healthcareathomeindia.com
Nightingales: Website: www.nightingales.in
IHHC: Website: indiahomehealthcare.com
Portea: Website: www.portemedical.com
Care24: Website: www.care24.co.in
Zozz: Website: zozz.co
Life Circle Health Services: Website: lifecircle.in
Healers at Home: Website: healersathome.com
Specialty-care
Swastha India: Website: swasthaindia.in
Press Red: Website: www.press.red
32teeths: Website: 32teeths.com
AdressHealth: Website: addresshealth.in/web
Diabeto: Website: diabe.to
Mydentist: Website:mydentist.co.in
Cloud9: Website: Website: www.cloudninecare.com
Centre for Sight: Website: centreforsight.net
Clove Dental: Website: clovedental.in
Bourn Hall Clinic: Website: www.bournhall-clinic.in
Simple Therapy: Website: simpletherapy.com
Content & databases
Mobile health content: Website: mdhil.com
Web health content: Website: medindia.net
Drivers of explosive growth
Earlier, the healthcare sector has been hostile to new technologies and experiments due to the essential nature of its business. But slowly, the awareness levels and desire of doing things faster and better is positively affecting healthcare innovations and digital health technology.
Affordable services: Entrepreneurs are using technology and digitalization to make health care services affordable and accessible to the common man mainly in non-metro cities. Hence they are trying to think of ways to lower health care costs creatively.
The rise in demands: Growing demands for better healthcare along with scientific advancement have helped the rise of healthcare start-ups in India. Technology and innovations are not only focused on bridging the gap between doctors and patients but also fast the delivery of medicines. [4]
On-call Health care services: With on-demand home health care and diagnostic lab tests gaining grounds, healthcare startups are getting favoured in India. However, there is a significant challenge of improving the connectivity between patients and service providers in the rural areas. Digital health start-ups can lead in solving such issues with disruptive technology. Digital health start-ups are bridging the gap between healthcare providers and patients using advanced technologies like mobile apps and social media. They are transforming the way healthcare delivered in India.
New Initiatives or policies: Different initiatives taken care by Government, like Startup India – Standup India and Digital India is biggest backing entrepreneurs have received in recent times.
Reduced time: Digital healthcare start-ups also help in reduces the expenses of patients and long hours waiting for their appointment with physicians. They help end users to find healthcare professionals in proximity to them.
Employment opportunities: New start-ups not only improve patients experience but also create employment openings. With a promising ecosystem for start-ups in India, there exists a greater possibility for them to create jobs for many more people.
Drug discovery is another exciting opportunity for the prospective and existing players in the sector. [5]
Focus areas for healthcare startups:
E-commerce: Online platforms for health devices and products
Telemedicine: Provide quick and easy access to doctors and hospital via telephone
Healthcare delivery: Provide primary health care services in rural areas via mobile clinics
Home health care services: Provide home-based healthcare services
Connect patients with service providers: Help users find a doctor and book an appointment
Manage chronic conditions: Help manage conditions like asthma and Chronic Obstructive Pulmonary
Diagnostic services: Include urine testing to diagnose a range of conditions
Disease (COPD): Include applications that help a user manage skin-related issues
Emergence in last five years:
Medical applications, wearables and Telemedicine will change the way people supervise their health with the help of disruptive technology.
The idea of having health care at your fingertips is catching the eye of end users. For instance, in the US, 70% of the people have been using the internet to find healthcare information, out of which 40 per cent had appropriately diagnosed. India has the second largest Compound annual growth rate (CAGR) in healthcare (11%) among BRIC countries (China ranks first). The sector is expected to expand at a CAGR of 18.3% during 2012–20 to reach US$ 280 billion.
A large number of tech start-ups has established in last decade in India. [6] One of the major contributors leading to this evolution has been the mega-funding that is broken into most of these unicorns between the period 2010 and 2015-16. Newly established health-tech start-ups have primarily contributed to the Indian corporates, and they have the desire to govern global business. India is entering into more valuable global partnerships. FDI flows in India reached a record 59 billion USD in 2015 which is staggering 70% rise. Healthcare was one of the top sectors which gained investment in recent years. From June 2012 to June 2015, there was a 51% increase to US$ 17.5 billion, with growing investments from medical tourism. The healthcare and life sciences sector saw a 54% jump to US$ 166 million in private equity investments between Q4 2014 and Q4 2015 alone.
Regarding product innovation, many companies are involved in the creation of goods and services for the emerging market first and then release them in the developed world. Recently, a worldwide medical device manufacturer launched an 800-USD ECG machine for the rural population of India which easy to use and easily portable. With surgery costs that are one-tenth of those in developed countries, India's medical tourism industry continues to boom with a CAGR of 30% in FY2015-16. In 2013-14, India had close to 2,30,000 medical tourists, mostly from emerging economies. In 2015, Private equity (PE) investments in the country reached record levels of USD16.8 billion across 661 deals. Indian healthcare sector witnessed a massive amount of investment during 2015-16 and arose one of the top recipients of equity and venture funding.
The healthcare market in India is vast and disorganized. With emerging markets as the new target consumer, international companies are setting up bases in India as well as investing and co-investing with Indian companies. The Indian government is also promoting venture funding, enabling capital to firms and passing favourable government policies.
Thus, India has laid the foundation for digital invention in healthcare through its economic strength, changing consumer behaviours and international investment. Innovative start-ups have tremendous potential to establish a niche for themselves.
Image credit: www.istockphoto.com