Having a penchant for building things and being exposed to different business models in the corporate world, Samir El-Alami exploited the boom in the healthcare industry to build his startup, doctorly. Read his interview where he talks about his experiences of raising money as a health tech startup, his entrepreneurial journey, and how to attract larger investors.
1. How will you describe your previous experiences as an entrepreneur?
Having worked with startups for the vast majority of my adult life, for me it was certainly something of a steady, but a blurred process. At what point did I go from being an employee to an 'intrapreneur', and then eventually to a full-fledged entrepreneur?
All three stages were incredibly important to me on my journey to where I am today.
As an employee, I was exposed to this crazy, amazing, tough, high-intensity world of 'startup life'. You're told to think big, and that anything is possible.
As an intrapreneur, I was able to build products & teams in an entrepreneurial way, but within the safety net of other people's vision and leadership.
As an entrepreneur, I needed to bring together all of the experiences and knowledge I had built up over the years, and focus it into a vision of my own (and my cofounders) making and execute to the highest standards, with minimal resources.
I also worked across a variety of industries including Fintech, Insurtech, Healthtech, and dating to name a few. Exposing yourself to different business models, different technologies, different countries and different opportunities will really open up your mind to new ideas and concepts.
The things you need to have before starting your own venture (in my opinion):
A strong vision that you believe in your core.
An amazing well-balanced team.
Investors or mentors that personally believe in you. (or the financial ability to get your startup/product to a place where they eventually will).
A lot of hard work. A LOT.
A willingness to sacrifice other areas of your life to the deity that is your startup.
Good oversight & a structured plan (with the ability to be flexible when things, inevitably, do not go to plan).
Some good luck.
2. How did you get your first investors, and how others can find investors as well?
Our very first investments came in 2 forms.
I and my co-founders were willing to focus 100% of our time on doctorly with no salary (until institutional investment came). This is a commitment you show to each other that you are really serious about making this business happen, and it shows your potential investors that you are willing to do what it takes (i.e. a personal financial hit) to make your company a success. Obviously, not everyone is in a financial situation to work full time on a project with no salary for 7 months.
However, if you want to build a startup while working a job, you need an incredible level of discipline. Your evenings and weekends are no longer your own.
Basically, you need to start being professional and acting as if this is your actual job, a long time before any money comes in.
Julian Teicke, founder of wefox, along with the Empaua network invested very early on. I knew Julian for a couple of years and we collaborated on a previous project. He believed in our team, in our vision and wanted to get on board very early on.
Getting that first investor really is the hardest part, other investors will look at you more closely if other people are already investing. Also if that first investor has a strong network, then these introductions can be incredibly useful.
That money was not for salaries for the founders. It was exclusively to hire new talent, for office space, and for other key general key business expenses. This money gave us a time-frame within which we needed to raise institutional investment in the form of our Pre-Seed investment. My advice on this one, get some angel investment on board before approaching VCs. It's easier to do and will make VCs take you more seriously.
Also, do choose your investors wisely, consider what else they bring to the table other than money. Contacts? Industry expertise? Go for smart money.
3. How did you build upon that and attracted larger VCs?
After we started to get the ball rolling with doctorly we wanted to raise a very strong pre-seed round and in order to do this, we knew we needed to have a few things in place.
A very strong team (by strong I mean experienced in building startups, in medical fields, in sales, in marketing, and all of the key areas our business needs).
A very clear company vision. Something with scalability. Investors are always thinking about the potential return on their investment. You need to be able to explain why your product is better than what is out there, how you aim to scale, your sales strategy, and a realistic market value.
A strong pitch deck. Speak to investors and ask them what they want in a pitch deck. Team. Vision. Product. Business model. Competitor or market info. Don't make it super long, if they want more details they will ask for them. The deck is to generate interest.
Look at your network. (Myself and some of my co-founders had a history of working with startups and building good relationships and reputations. You work with different people, you meet people at conferences, you engage with investors at various levels, some of your ex-colleagues become investors, etc.)
Introductions work the best. (If you get an introduction to a VC, from someone the VC trusts; that is the best possible start you can have. If you send a cold email to a VC, chances of getting a response are very limited. Convince people within your network, who will introduce you to people in their network).
In the end, things went very well for us at doctorly. We raised a very strong pre-seed round with three excellent VCs (Target Global, Seedcamp, & Pioneers Ventures) as well as investment from an excellent group of forward-thinking Angels.
With the financial backing as well as the trust placed on the team, we feel validated in our pursuit to jump-start a health-tech revolution in Germany, and internationally.
4. In your experience what are the 3 most important steps, one need to take to find investment for their startup?
Decide which types of investors you want to have. Money for money sake is not smart. Make that list of perfect investors, and strategise how to make it happen.
Work your network to gain access to the investors you want to speak to. Sending cold emails to VCs rarely works, if ever.
Be sincere, humble, and supremely confident, all at the same time. It's not easy.
Bonus 4th one for you! Don't just try and hook the big fish, i.e. a VC. Getting on board angel investment is much easier and builds momentum towards meetings with VCs.
5. What inspired you to launch doctorly?
My co-founders and I knew that we wanted to build something in the health space. It is a massive industry with a myriad of opportunities for disruption. It is a space where we believed we could really help the largest amount of people. It is also an area where investors are actively looking for companies to invest in, which always helps.
One of my cofounders is a neurosurgeon, and he brought the doctor's perspective into our discussions regarding 'what is going wrong in the health industry'.
We are all patients at one time or another, so it is easy to brainstorm pain points and areas for improvement from this perspective. But to look at the same issues and pain points from the perspective of the doctors and wider medical professionals was a transformative process in our planning phase for doctorly.
We undertook some extensive research into the health-tech space and analysed what other innovations were taking place. The big incumbent companies, the cool tech-focused startups, and value-adding industries that flirt with health on the outskirts.
In short, our findings were that a lot of the startups were building modular tools, that is, things that health professionals or everyday people can use as an extra additional tool to how they already worked/lived. Examples include booking tools, chatbots, personal health record storage, etc.
From our perspective, while some of the products were really cool and super useful, the fundamental advancement at the core of medical care, that is clearly needed, was not being addressed.
I have always found that big companies often struggle to enact transformative change in any kind of quick or meaningful way. The bigger you are, the more money and resources you have, but also the slower you move, which is why startups need to step up to show what is possible.
We decided that if we wanted to make the biggest change to the most people's lives, then we had to focus on the core basics of the health industry. In our opinion, this is the practising doctors and their patients.
Doctors are incredibly important within our society. We rely on them to help us understand our health, to treat us when we are sick, and to help us live healthier lives. The average German goes to the doctor around 9 times a year. These are important people in our lives.
Do they have the best tools to do their job? They should, obviously.
Even though doctors provide such an important service to society, the answer, however, is no. The amount of time and effort we saw being wasted at doctor practices on administrative tasks and on inefficient processes was staggering.
Is this the doctor's fault? Absolutely not. They use the tools available to do the best job they can. But these people study and train for years and years to be able to treat, analyse, and heal… and suddenly they are thrust into a situation where they have to run their own business. What tools should they use? What HR principles should they enact? How should they optimise the performance of their business?
The health IT industry innovated 20 or so years ago on behalf of practice doctors, however, since then there has been a clear lack of progress and innovation. What this has led to is a shift in the dynamic between government and industry.
It should always be the industry pushing the government to enact new technologies and processes for the betterment of their customers. However in Germany, and other countries, it is now the governmental bodies that are pushing the health IT and insurance industries to step up their game.
We knew instantly that we could build something far superior to what is out there for doctors to more efficiently manage their practice.
Our goal is to save the doctor time, to save the doctor money, to cut the time spent on admin tasks within the practice by 50%, to provide practice analytics for optimisation of service levels, to assist the doctor in providing excellent service levels to their patients, and to be the IT provider doctors deserve. And this is just the start.
When doctors use doctorly, their lives (and by proxy the lives of their patients) will instantly change for the better. Fully digital software, automated processes and tasks, smart intuitive designs and user-flows, features inbuilt in to the software to cut the percentage of no-shows, better communication with patients, time to spend with more patients, more time to spend with patients who require it, and the collaboration levels with other doctors and staff members within the practice takes a giant step in the right direction.
We also decided that as part of the practice management software, we would offer a second product for the patients. health app, a secure digital account that allows patients to access, control, and understand their own personal health data. To be able to share this data with other doctors. To have key trends broken down indigestible and actionable ways. To be able to book digitally, directly with their doctors.
By helping the doctor, we are able to, directly and indirectly, help the patients. So this became something of a motto for us.
Help the doctor. Help the patient. Repeat.

6. Can you tell us about the upcoming launch of doctorly, why is it different and what benefits does it bring to the market?
doctorly is a fully digital practice management software. Using cutting edge technology, we enable doctors to manage all aspects of their medical practice like never before.
Not only do we have investors who are doctors, a co-founder who is a neurosurgeon, but we also work very closely with many practices across Germany to make sure our product really is – Made by doctors. With doctors. For doctors.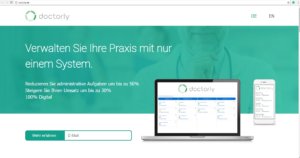 When you manage your practice using doctorly you can expect:
To cut the amount of time spent on admin within the practice by 50%.
To save money on what you spend on your practice management system.
To increase the amount of revenue your practice makes by 30%.
To see the collaboration between doctors and assistants within a practice dramatically improve.
Digital booking fully integrated into your system.
Simple, intuitive, personalised process flows and interface.
Assistant/Secretary specialised features to make key daily tasks automated and efficient.
Digital communication tools with patients.
The number of 'no-shows' to drop by 30-50%.
To have your state billing processes automated and streamlined.
To have your private billing processes automated and streamlined.
To have the best possible customer support.
To have a free digital account (health app) to give to your patients that allows them to have access to their electronic health records and digital booking with your practice.
To see your patient satisfaction levels skyrocket due to increased service levels.
7. Where can we buy this software? Do you offer a test version?
You can join our waiting list via www.doctorly.de, where we will keep you up to date with what we are doing and you can get early access to the product.
We are planning to go live in the third or fourth quarter of 2018, however, if you are interested in gaining early access to your practice you can get in touch via [email protected] about joining our 'innovation partner' program.
We are always happy to hear from doctors looking to learn more, to add value, or to work with us to make doctorly the practice management system that doctors deserve.
Thank you, Samir for offering your insights. Team Dr. Hempel wishes you all the very best in your future endeavours.