mHealth in Africa
The size and segments of the global digital health market
Growing use of tablets, smartphones, and other mobile platforms, rapidly improving IT infrastructure and favorable government initiatives are some of the notable factors driving the global digital health market size. Over a third of the world's population (7.5 billion people) is predicted to own a smartphone by 2017, up from just several than 10% in 2011. It is forecasted to reach 2.32 billion number of smartphone users in 2017 worldwide.
The count of smartphone users is gradually increasing from the year 2014 and may reach 2.87 billion in 2020. According to wireless smartphone strategies services report, global smartphone penetration rate of population will increase from 39 percent in 2016 to 44 percent in 2017 and will further increase to 59 percent by 2022 worldwide. This report is taken based on 88 countries.
Rapid improvement in IT infrastructure coupled with growing demand for cost-effective technologies in healthcare such as mHealth (mobile health) will boost the digital health market over the coming years.  North America dominates the global digital health market.
Increasing usage of electronic health records leads to superior quality of healthcare and improved service delivery which is expected to propel the market size in the future. As per a new research report by Global Market Insights, Inc., Global Digital Health Market size was USD 51.3 billion in 2015, with 25.9% CAGR estimate from 2016 to 2024. Digital Health Market size is expected to exceed USD 379 billion by 2024.
In 2017, the mobile health market is expected to reach 21 billion U.S. dollars worldwide. The digital health market is predicted to reach 206 billion U.S. dollars by 2020, driven especially by the mobile and wireless health market. The market in the Asia-Pacific region is expected to be a critical region in the future.
Global digital health market
Key players
Global digital health market volume is fragmented in nature, with large firms, small local players as well as start-ups entering the industry struggle. The principal industry participants will hold maximum digital health market portion is owing to brand recognition, strong financial muscle, and premium after sales service. The famous players include LifeWatch, McKesson Corporation, Qualcomm, and Philips Healthcare; AT & T. The distinct business participants include iHealth Lab, Cerner Corporation, Cisco Systems, Athenahealth, and eClinicalWorks.
Global digital health market size will reach USD 379.3 billion by 2024, with over 25% growth from 2016 to 2024. South Africa digital healthcare market part was over 15% of local revenue in 2015 and assumed to beat USD 1.2 billion by 2024.
Global digital health market by technology 2015 vs 2022
Digital health concerns to the use of IT tools and services for achieving better health care services. It enhances the quality of care through ready access to lab test outcomes, and drug information systems, which alert pharmacists to limit harmful drug interactions. Also, digital health provides more efficient care, as compared to traditional healthcare technologies through digital diagnostic techniques and online patient services.
Digital health technologies, like electronic health records (EHR), wireless technologies and digital diagnostic systems comprises a range of data including patient history, medication, immunization dates, allergies, diagnosis, radiology images, laboratory and tests results, insurance information, and treatment plans.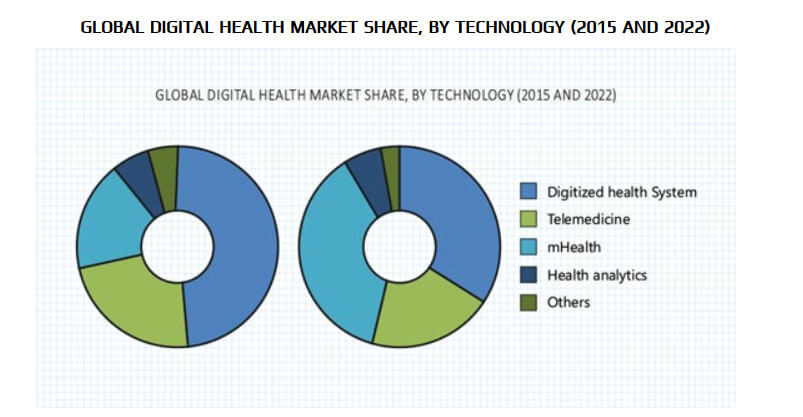 The mobile health opportunity in Sub-Sahara Africa
Sub-Sahara Africa (+/- 1 billion people) bears the highest disease burden in the world., In most of Sub-Saharan Africa, the leading diseases like HIV/AIDS and malaria accounted for the larger portion of disability in Sub-Saharan Africa. It accounts for 26% of all TB cases, more than 70% of all people living with HIV and 90% of malaria deaths. Here, children are particularly vulnerable to malaria and are expected that the disease takes the life of an African child for every 30 seconds. As technology advances, the costs of curing diseases also decreases. The average cost of buying a six-month course of treatment to cure TB is $20.
For malaria, the treatment costs may take $2 or less per dose. Finally, for the patient with HIV/AIDS, the antiretroviral medication costs $100 (per patient per year). In 2010, nutritional scarcities, especially iron-deficiency anaemia, accounted for nearly twice the health loss in Sub-Saharan Africa than they did globally.
Nonetheless, the economic and technological improvements in the region provide possibilities to develop sustainable mobile health solutions to enhance health care. This one requires an integrated approach, strategic partnerships, and new business models.
mHealth is the practice of medical and public health supported by mobile devices, such as cell phones, personal digital assistants (PDAs), patient monitoring devices, and other wireless devices.
In regions where basic access to healthcare is a challenge, mHealth can provide remarkable opportunities. These days, the entire world is moving towards technology and digital tools available. So, penetration of mobile phones (mhealth) in the sub-Saharan Africa region for treating non-communicable diseases doesn't seem to be surprised. Almost, 20% of the African population is already wealthy and can be readily adapted to this technology.
Also, the remaining 80% are not rich but we can't judge them as uneducated. There are also precious diamonds mixed with natural stones. So, these educated ones can also be able to use these mhealth opportunities and motivate people around them to use it due to its low cost and many other advantages offered.
Due to weak health care systems (both organizational and financial), quick and efficient remote medical management is limited. mHealth can extend and improve the current health care system, and it has the potential to address healthcare to patients in the most remote areas.
Challenges
Despite all the opportunities provided by the mHealth solutions, challenges lie ahead as well, such as globally accepted policies, guidelines, and standardized metrics. Standards were approved in 2013, for the global use of mobile devices in health care. This is a great milestone to develop standards-based interoperability and communications among medical devices. It will excite innovation, and it will drive mHealth towards a global scale. However, other critical challenges such as health information security, evidence base, and user acceptance must be taken into account.
Likewise, the national situation, financial resources and type of stakeholders in developing countries present far greater challenges than in developed countries. Sub-Sahara Africa strongly depends on international funding, for many of its health services. Usually, low-income countries spend $25 per person on health (according to 2012 records). This is less than 2% of the average spending in high-income countries. These countries receive money in the form of taxes, and the expenditure will be of the same order. So, the countries are depending on other themes such as sin taxes. This means that the tax to be paid on the consumption of tobacco and alcohol.
Data (from 22 low-income countries) recommend that a 50% increase in the excise tax on tobacco would bring in $1.4 billion of additional revenue to those countries. And the combination of public, profit and non-profit organizations hard to coordinate.
The health care financing system in Sub-Saharan Africa is divided into government spending and private spending. Federal spending covers less than 20% of Africa's total health care expenditure.
Resource availability is unequally distributed: a mere 15% of the population has entrance to private health care, while the following accounts for more than 80% of the total health care expenditure. Government health spending (GHE) as a percentage of total health expenditure (THE) increased from 39.9% in 2006 to 48.4% in 2013. In South Africa, for example, Government health spending (GHE) as a percentage of total health expenditure (THE) increased from 39.9% in 2006 to 48.4% in 2013. The Government focuses on improving infrastructure, human resources for health, and procurement.
SA's health care spending, which totalled $29.8 billion in 2013, is forecasted to grow steadily from 2014 to 2018, to a whole of $39 billion. Meanwhile, spending as a proportion of GDP is expected to remain stable, at around a percentage of GDP is projected to remain stable, at around 8.5 percent.
South Africa is the largest healthcare market in Sub-Sahara Africa, followed by Nigeria and Ghana (West Africa) and Uganda and Kenya (East Africa). It is also the third largest economy in Africa. But spending on medical devices is not that much. It may be around 0.3% of GDP and 4.0% of health expenditure. This may be the reason why a U.S. exporter is going to enter the SA market.
On an average, SA spends 8.7% of GDP in healthcare or US $437 per capita of which 42% was government expenditure. South Africa's GDP is many times larger than the other countries in the Southern region, has a large pharmaceutical spend, and currently has the most mobile health deployments.
Many medical studies don't provide instant results, and some are lacked comparator arms and clinical endpoints. But like, mhealth provides quick results for most of the studies, and the costs are also reasonable. So, it is better to employ a variety of mhealth opportunities in sub-Saharan Africa which appears feasible for follow-up and retention of patients.
The payers, regulators, and government are in control
In the present scenario, the payers are the key to fast selection and probably the most influential stakeholder in the mobile health ecosystem. Without the possibility of a yield the mobile operators, device vendors, IT/Software companies, pharmaceutical companies and content players will hesitate to invest in mobile health projects because they risk not getting a return on their investment.
The other key stakeholders' Pharmaceutical companies could be considered to be the most influential health care players. And mHealth will inevitably present them with tremendous opportunities. An extensive note regards less regulated regions such as Sub-Sahara Africa, where the completion of mHealth and secure funding heavily depends on international subsidies (foreign aid) governmental or otherwise international and national private companies (other than insurers), entrepreneurs NGOs and venture capitalists.
Regulations that treat HMOs in the same way as auto or life insurance, or even fee-for-service health insurance, significantly inhibit the development of these types of plans. Because HMOs provide the insured with services themselves, they tend to have far greater control over costs than traditional insurers, yet in many countries, they are grouped with other insurers and are required to have the same minimum capitalization. In interviews conducted for this report with insurers, HMO executives, and entrepreneurs, capitalization requirements were cited as a significant barrier to entering the market in Sub-Saharan Africa.
Finally, anything governments and external stakeholders can do to directly foster the development of organized, high-quality private sector provider networks would, in turn, benefit the expansion of large-scale industry risk pooling arrangements. The extreme fragmentation among private sector providers today is, in itself, a barrier to entry for large risk sharing entities.
To operate efficiently, such objects need to drive efficiency through their health purchasing, something which is difficult to do until consolidation into networks has commenced.
Mobile operators can be seen as the essential link in the mHealth ecosystem: they present the connectivity on which all mHealth aids depend. They need to fully utilize their capacity in providing stable and high-quality networks that can handle high traffic loads. Sub-Sahara-Africa has one of the least developed infrastructures in the world, but its mobile network coverage is very high. Improved network coverage, the launch of 3G and 4G, together with the possibilities provided by WiFi, has increased mobile connectivity in Africa. This growth rate of the mobile market in Africa is one of the highest worldwide.

How mobile phones are changing health care in Africa
In Africa the monitoring health data can have a substantial impact on health policies and help educate them on several accounts:
1. Disease spreading
Cell phones are active in the fight against diseases, such as in the case of malaria. Sub-Saharan Africa shares a high part of the global disease burden. There are over 90% of malaria cases and 92% of malaria deaths from this region in 2015. The introduction of mobiles for this purpose, that too in the sub-Saharan African region has become very helpful. As soon as there is an emergency, the health care providers will receive notifications and rushes through a bike (provide to them). By using mobile, it has become very easier to communicate and the waiting time has been reduced from several days to a few hours.
2. Counterfeit drug detection
Cell phones are also being used to identify fake or stolen drugs. This lessens health risks for people and helps governments fight counterfeit drugs spreading.
3. Drug supply
Mobile phones can be easily used to control the level of vaccine supply in remote facilities, making it likely to prevent stock-outs and helping to ensure that vaccines are accessible when needed.
4. Birth registration
Sadly, many infants are born and die without ever being registered. Cell phones can help parents to record the birth of their child, which allows governments to plan health policies better.
5. Foster dialogue
With the use of enterprise mHealth apps, health organizations and businesses can play a role in building an open dialogue between the government and the people, particularly in times of crisis. An excellent example of this is an IBM driven mobile enterprise in Sierra Leone that is allowing the citizens o to report Ebola-related issues and matters via SMS or voice calls, generating a new channel to communicate their experiences immediately to the government. These apps help unite the dots in the event of a crisis; they act as an insurance policy upon pandemics such as last year's Ebola outbreak.
Some mobile Applications are already successfully being used in Africa, for example, Find-A-Med, Kids First Aid, Hello Doctor, MomConnect, Smart Health App, Matibabu, MedAfrica, DrBridge, Ubenwa, and mPedigree.
Conclusion
Our prognosis for the next ten years in Africa is that the mobile health sector will grow significantly. It will contribute to saving lives and reducing medical costs. With a population of 830 million in sub-Saharan Africa, there are only more than 50% active in access to the internet and that too mHealth are very less. Taking into account the number of mobile users in Sub-Sahara-Africa it is possible to grow the health network to over a billion users in the next few years. It will overall result in a healthier population and also longer average life expectancy of people.
Image credit: www.istockphoto.com