Diabetes prescription is just a click away with Bluestar
It is normal for a doctor to prescribe a medication for a patient's ailment. It is the norm we have been used to for maybe hundreds of years. The pharmacist then releases the medicines as per doctor's instructions. Surprisingly, this is now the case with software applications; we have applications that are in every online store and doctor prescribed applications of which this is the first.
Nowadays, with technology soaring to unsurpassed levels, there are health applications on every device.
There are applications available on every online store and equipment, but we always end up questioning the reliability of these pulse measuring and steps counting apps.
Their reliability varies; as is the case with many other applications that don't involve health issues; and it is risky to depend on them.
What is the latest? There is an application; that can be prescribed along with your medication by your doctor. The pharmacist releases a code for accessing the application, then, the patient uses the app on his smartphone. Being a prescription only application, this is accepted by the insurance companies too which is just a side benefit of a useful form.
Diabetes management
For a Type 2 diabetes patient; keeping a log of daily glucose readings, exercise, medications, and food; is crucial according to Mayo Clinic Online. The problem is that only about 15 to 20% of patients can stick to keeping that log says Dr Phillis Tsimikas at the Scripps Whittier Diabetes Institute. Even though, managing these factors remains a patient's blood sugar in that safe range, where diabetes will not manifest its adverse side effects. This is where the application comes in handy; for the real-time management of a patient. And just like that, with the touch of your fingertip, you have an app on your phone that gives a patient 24-hour guide and support, clinical decisions, the timing of blood sugar tests, medications dosage as well as sending reports back to the doctor in question.
BlueStar: The perfect app for your diabetes prescription
The BlueStar app specializes in giving a patient feedback and customized steps in tidbits. This enables a patient to manage diabetes in their way. The application even comes with motivational texts like "great job", or informative like "med will work best if taken with your meal." Some dictate emergency actions like "take three units of insulin now!" This helps the user to track their routine and take medications properly.
The most important point is that the app's instructions go hand in hand with the doctor's instructions and prescribed plan. It works on all devices and specifically smartphones, but that is not all; it regularly updates the patient's doctor as well as suggesting improvements or changes.
This addresses one of the most important factors in a patient's history; the change in his behaviour or habits till he acclimates to logging his health issues bit by bit, a feat that a physician finds almost impossible. It is especially valuable if the patient is just young or even a child, then, it becomes enjoyable to monitor himself through a mobile application and the charts are also childish in that instance.
BlueStar was founded by the company WellDoc in 2010 and in 2011 a clinical study at the University of Maryland medical school, aided diabetes patients to reduce their haemoglobin A1C, crucial to blood sugar control. Noticeably, blood sugar levels dropped by about 1.9 percent as compared to 0.7 percent in a controlled group but without the app in question. This app is also appreciated by endocrinologists as they state that it is a vast improvement over the regular medications provided.
This diagram illustrates the usage of the application and the cycle it goes through.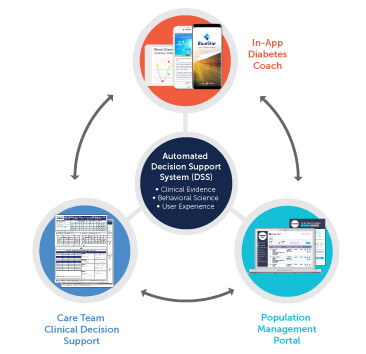 Image courtesy of WellDoc
It might be a software on a smartphone, but it is treated as a medical device, will be paid as a medication but its effects are much more noticed and lasting than the meds can ever be. It tracks readings, individual meals, activities while providing reminders, suggestions, encouragements and much more.
Digital health applications
It is a fun fact but there are approximately 97,000 health applications available for download on major app stores. Anything that remotely has to do with your health is suddenly a health application, but most of them didn't need FDA approval since their effects would not so completely affect a patient's health directly. These are apps that measure pulse, heart rate, exercise rates and calories burned, steps are taken or run, speed, medications, to mention just a few.
These applications barely skim the surface of a person's health problem and cannot be compared to this application which delves into the depth of a patient's diabetic problem.
The applications available at the moment are not going to be able to stand against the tide of prescription applications once it starts, especially if they are anything as effective as BlueStar and its success with the FDA. It will inspire other health companies to go the same regulatory route then, prescription applications will be on a continuous rise but not too fast as to scare us.
According to the New York Times, Mr. Iyer of WellDoc had something simple in mind, but as the company worked on it, it had to be something more substantial after the years and millions spent on it and unlike other applications that are designed to skirt around the FDA regulations this went for all the regulatory process and came out a winner. It is considered a winner in many aspects: the health of the user is vastly improved, monitored and easily; economically speaking, treating diabetes alone cost $174 billion in 2007 according to Center for  Disease Control and Prevention so, it is definitely an excellent investment and a step in the right direction even though there is still a lot of grappling to ensure safety of the day to day run of the application.
The mother company is also working on applications in several areas like; cardiology, physical therapy, rheumatoid arthritis, as well as diabetes. It is a transitional state from superficial to real health care conveyance.
Image credit: https://www2.bluestardiabetes.com/