MEDICAL Japan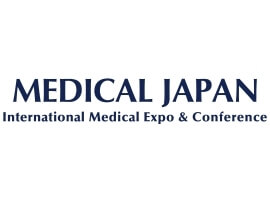 Medical Japan is the most prominent exhibition of medical market possessing. It is Japan's first trade show which covers all the products, trends and technologies for healthcare, clinical testing, diagnosis, and medicine.
Medical Japan is the best platform for entering Japan's healthcare market and expanding business in the country. It offers an excellent opening to find your importers & distributors, and exhibit management conducts and gets distributor support service.
Medical Japan consists of 6 shows and gathers a large number of traders and allows you to meet all essential members under one roof.
Next Medical Japan scheduled in February 2018 and registration for the conference would be available two months before the event.

Who is the target audience
Hospitals, Dispensaries, Medical & Health Centers, Rehabilitation Institutes, Hospitals, Aided Living Facilities, etc. Lab Technicians, Lab Personnel, Doctors in Medical Institutions, Clinical Trial Centers, Distributors, Trading Companies, Hospital/Clinic owners, Management, Nurses, Medical engineers, Directors and Managers of Nursing Department, Nurses, Home-visit Nursing Institutes, Medical Experts, Universities & Researchers
What is the program
How to Establish Bright Future with Community based Integrated Care Systems
Top Medical Device Industry Leaders: Perspectives
Japan's National Policies to Further Develop the Medical Device Industry
What Represents Innovation in Regenerative Medicine?
Act on the Safety of Regenerative Medicine – Overview
The Prospect of Medical Care and Nursing Care – The Manner of Desired Cooperation
Pharmaceutical Industry in Japan: For Further Growth
The Latest Trend and Prospects of Cooperation of Local Health Care
Evaluation of 'Quality of Medical Care' and Efforts to Ensure Safety
Possibilities and Problems of Medical Inbound Trip
How to Implement Sterilization and Infection Control Measures
The Secret of Hospital Management Facing the Future
Applications of AI in the Field of Medicine
Medical Care Innovation through Big Data
The Latest Trends in ICT in Medical Care and Health Care Fields
The Present and Future of Nursing Care and Senior Business
Future Innovation through Nursing and Manufacturing
The Current Situations of Venture Companies
Highlights
Some Speakers
Minoru Kamata, Honorary Director at SUWA CENTRAL HOSPITAL
Tsuneo Sakai, President at Japan Hospital Association
Kaoru Manabe, Policy Planning Director & Ministry of Health, Labor and Welfare
Uichi Koshimizu, Head of Regenerative Medicine Field at Asubio Pharma
Kiyoko Okubo, Vice President at Japanese Nursing Association
Special offers
Start-up events
Prices
Space Only: On Request
Space & Shell: On Request
Exhibitors
Yes, Medical Japan offers you to exhibit your products & services to end users and expand your business. It expects more than 1000 exhibitors in an upcoming event.
Image credit: Medical Japan